Dear colleagues / clients / partners!
We are glad to inform you that "Vixen.UNO" has joined the big partner family Nutanix Partner Network!
Nutanix – The Enterprise Cloud Platform that makes datacenter infrastructure invisible.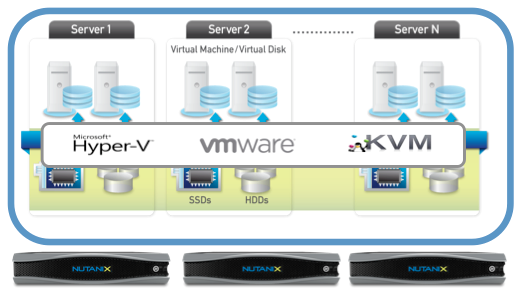 Nutanix offers a virtual computing platform for VMware vSphere, MS Hyper-V, KVM solutions. It combines server computing resources and corporate storage in a single solution. This approach provides several advantages:
Projected infrastructure costs. Nutanix expands in blocks and you can always tell how much the system will cost in 2, 4, 8 times more productive. You do not have to change storage controllers to more powerful ones or to purchase licenses when upgrading to a higher storage model.
Step-by-step extension. Starting with 3 nodes you can buy them as needed. Without the need to immediately put productive controllers, if you plan to rapidly increase the requirements for resources.
Simplify architecture. This solution does not require SAN and storage, which simplifies administration.
High performance. Using RAM, SSD drives and local drives allows you to achieve high speed and minimal delays.
Nutanix makes transition from silos of dedicated compute, storage and networking infrastructure to a hyperconverged infrastructure that enables you to deploy applications faster and scale without limit.
Our specialists are always ready to help you in choosing the optimal solution for your data center architecture!
Together, we deliver solutions that elevate IT to focus on the applications and services that power business.