Friends!
So our wonderful event "Innovative solutions in the data center, BYOD and the cloud" was held. It had many interesting slides and technological novelties.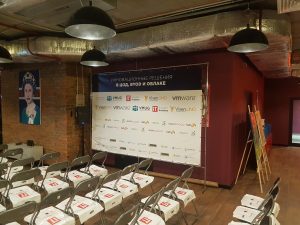 Opening the series of reports, Dmitry Kharitonov talked about the next generation IT infrastructure and how hybridization of solutions helps to solve the issues of managing and monitoring hyperconvergent infrastructures.
In the continuation of the topic of hyperconvergence, Andrei Levchenko introduced a solution from Nutanix that provides corporate functionality and cloud simplicity. The decision aroused great interest among the visitors and, at its booth, Softprom by ERC company graciously showed, told and "gave a touch" to the hardware novelty of our market.
Arthur Dovydenas in his report showed the current trends in IT infrastructure and cloud computing. He told what to expect from small data centers in the near future, as well as about new planned services.
One of the interesting moments of the conference was a report by Vasily Sheludchenko. Vasily showed the advantages of digital transformation of the bank from the side of the bank, describing how the introduction of SDDC based on VMware products (vSAN, NSX, vRealize, vSphere) helps optimize the operation of the IT infrastructure and simplify its further maintenance.
Closing a series of reports, Dmitry Kharitonov told about current trends in the direction of BYOD, about what "pitfalls" this concept brings to administrators of IT systems and how the solutions of VMware AirWatch help to solve most of them.